Post by henrun on Jan 12, 2017 17:00:07 GMT -5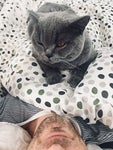 I had the corded KSS 60cc for a brief period and posted here when I received it. It is a great saw but it does not really fit the kind of work I usually do and I am happy with dividing the tasks between the MT55cc and the KSS 40 with the KSS 40 doing most of the work.
Like Ghostfist I used the KSS 300 for quite some time and I was thinking I might keep it but after having used the KSS 40 for an hour or two I decided I really didn't need to hold on to the KSS300 - I think the KSS 40 is better.
Not sure if you've used the Milwaukee 18v brushless circular saw, but in your opinion do you believe the Mafell KSS40 is at least as powerful?
I have no experience with Milwaukee 18V circ saws, sorry.
I can say that up to the full depth of cut the Mafell KSS 40 feels very well powered - within reasons when it comes to type of wood of course. I think the blade size and depth of cut is very well chosen, in their pdf on the KSS 40 they state the reasons for the blade size and cutting tasks for it. My point with saying that is that I think most, if not all, circ saws that are larger sized and run on a single battery struggle a bit at full depth of cut and I think the Mafell at 40mm is not struggling whereas the "other ones I have seen or tried" struggle around 45 to 55mm anyway.
Conclusion is that the KSS 40 is very light and very powerful for such a small package and that I think it is very well thought out. I was a bit apprehensive at first since I thought I would fall short with such a small saw but even with the KSS300 I found the machine did almost everything I wanted in terms of performance. The KSS 40 tops the KSS 300 for performance which is quite a feat for a battery vs corded in the same class.
Another thing I actually like is the on board electronics that cut off power when you hit the material too fast and the blade is not revved up. I haven't had one single kick back as of yet. When using the cross cutting sled it helps to keep the off cut free and angle it slightly so it falls away from the blade - but this is common sense with most saws I guess.
I don't think any particular brand saw is unprofessional - say you only use a circ saw in your profession for very simple tasks and don't need a very good quality of cut - you could get away with using a cheap Ryobi or similar. Unprofessional is using a small B&D Mouse to sand down a floor and stairs (I've seen it, it took forever - not sure that guy is even done by now...) and charging by the hour for it. Or maybe he was smart.
I own two of those Milwaukee saws. It may seem unprofessional, but I use them daily, even though I own 6 wormdrives. The three saws I use to build decks with, are the kapex, the Milwaukee 18v brushless, and the MT55cc. I would like to replace the Milwaukee with the KSS40.