Post by holmz on May 16, 2015 21:01:55 GMT -5
I am thinking that I should probably bust out my Timber home questions into a separate thread: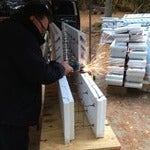 1) Why do people go with massive timber frames rather than stick?
(Design, cost, some performance or aesthetics?)
The look intrigues me but I can hardly find information on it and cost details.
Believe it or not, Holmz, a lot of frames are predicated on the idea that one ends up with an extremely durable craftsman style structure that's very energy efficient. The frame itself is nothing more than an endoskeleton that supports whatever type of envelope the owner wishes to employ. In the colder regions, many enclose their frame inside a thick outer layer of structural insulated panels (SIPs) -- on the walls and the roof -- which makes for a very energy efficient structure.
Obviously, a well-built traditional timber frame is very labor intensive and, therefore, more expensive than a balloon/stick type structure, so they're usually commissioned by folks who can afford to wait.  As the load bearing elements of a timber frame are clearly visible to its occupants, the owner(s) is/are usually big fans of the "wood look."  
As for myself, I would say that there's something very gratifying about always being able to see exactly what went into creating such a strong type of building.
So I am hearing that the thermal performance is totally dependant on the outside skin and that either a stick or timber framed can be equal(?).
Are they popular in the colder European areas because of aesthetics? or snow load capacity, or just because they have more craftsmen that know how to build them?
Or are they not really much more popular in Europe?
In the area we are considering building I have found it difficult to find timber builders. More common is steel beams with the exoshell attached. I like the look of the wooden beams.
I devoured the Canadian Woodpecker series videos on the fellow's shop build... Looks interesting, fun and challenging.