Post by toomanytoys on Mar 5, 2016 19:53:36 GMT -5
I'm starting a new thread here rather then continuing Red's in the Odds and Ends section. One I think the content is more relevant to the rails section, and two as I've been working on this project the direction has a different scope then bar clamps or repairing bar clamps. And I have more projects I want to add later related to rails so this is the section I want to drop everything in.
For me this started out about getting a machine shop to make some parts to repair broken Bosch clamps like Red's and Brad's as well as finding bar clamps from other sources with the same bar so we all had more options. And maybe a more durable design or where the small screws could be easily replaced.
At first I bought a pair of look-a-likes, checked out stores with measuring calipers and ended up buying more and more clamps I didn't need to try to get the same sized bar. And I came to the point of thinking this is nuts. All the bars are different and what are the chances of getting a group of what to use as base clamp.
As I'm holding these Bosch-like bar clamps in my hand these are friggin' big, and for me proportionally way big for track use. You guys who are using the Bosch clamps are going to have to tell me how you feel the fit is. [Edit]
Lincoln mentioned below these do fit into the little pocket of the Mafell bag like the Mafell clamps do.
Admittedly my reaction they wouldn't is influenced to my past track life, maybe you guys find them very good and sized well.
There are about a half dozen of us that prior to Mafell used Eurekazone tracks. It's wasn't a bad system, there are a number of that forum's members who are the most inventive guys in adopting those tools, but if someone is going to do a Business Management thesis on how to take an inventive idea with great potential and screw it up through marketing, manufacturing, and idea control, have I got a company for you.
So I started to look at the smaller bar clamps. Jorgensen is a company that I have the majority of my clamps from and the review of their smallest, newest clamp was good. My new direction. The Bosch-like sized clamps can tighten with a load of ~150lbs, something that had me worried about the Mafell little groove. The little Jorgey is rated at 50lbs and is size a little smaller than the Mafell screw clamp. But with those screw clamps you can easily generate well, well over 150lbs. I also picked up some mini Tekton clamps too during my bar clamp buying spree.
My other change of thought was going to a machine shop was expensive, so what about ways of doing these track mounts that could be DIY or close to it so everyone could use their favorite brand of clamp no matter where in the world they were located at.
Over at EZ, BeThePro, Contractor Talk and other sites people had adopted clamps for years. Some of this forum's members had done that 5 or more years ago on those sites. The biggest issue with the Mafell track is it's so compact. The EZ track is big, heavy and has a wide groove so the rail is big enough to accommodate a 5/16-18 or 8mm rod with enough meat on the sides to hold up to anything. The Bosch clamps use a 3mm screw as that is as large as you can to not compromise the rail nuts integrity. Now it turns out that a T-Bolt of ¼" or 6mm will fit into the Mafell groove with a little grinding, and some of the things I'm thinking of will utilize those.
So I'll show what I've done on a limited basis so far. It's not been much as while playing in the garage I've developed pneumonia. Been a tough, tough year so far and each month has a new surprise.
Red's thread about clamps in Odds and Ends was where I first pasted some of the first trials. And both Ghostfist and I had the same thought about machining a bar. And once you have a foundation, the world is open.
First attempt with bolts.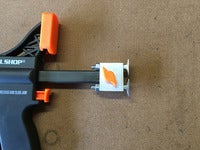 Measuring out the groove was no issue, and neither was measuring the Mafell clamps tang. I'm sure some of you have followed forums where guys have made their own CNC for routing out wood signs, etc. Well they do that with aluminum as well. And using a router on aluminum has been done for years in the sign industry and with guys in the homebuilt aircraft world.
Normal end mill rpms for machining aluminum are in the 2500-3000 rpm range to target the surface speed for the tooth, and the typical end mill bits have 3 or 4 flutes if your trying for a good surface finish. Variable speed routers are typically in the 10,000 to 20,000 rpm range. With that high of an rpm to get the edge surface speed down to the point where aluminum wont smear on the bit there is only one way to do it, reduce the flutes down to 1 with a small diameter. One edge is ¼ of what you would generate from a 4-flute bit, and a smaller bit travels less surface feet per revolution then a larger one.
And they make router bits just like that. So I picked up a 1/8" single flute solid carbide bit the home CNC guys use with their router-powered home brews. This way I could plough out the clearance slot and also use it to plane down the thin edge to the right width. I did this on what many of us are already well experienced with, a router table. So a DIY bar that anyone can make is certainly possible. I just have warnings. Aluminum chips are very conductive so you need to set up good dust control and shield the router so it doesn't get aluminum into the motor. And eye plus breathing protection needs to be done too.
This is the result.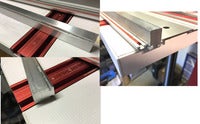 So I've used it for two things. One I took the small Jorgy clamp bar dimensions (which is why I picked 1/8" for the end mill bit) and machined a slot in the bar for it to fit, and then drill holes and threaded the end for a screw. The problem with a little bar like this is there is not much clearance to the clamps jaws as there is with the larger size clamps. While larger wood thickness would be fine ¼" / 6mm ply would not clamp down so I had to beef out the jaws surface with a very strong adhesive mastic tape. This is incredible tape once it takes hold and I've used it for decades. I've used my track with ply as thin as that so it was important to get to this thickness. It seems to work quite well and it provides for a compact clamp that can still accommodate 6" thickness of wood, holding at 50lbs per Jorgensen. I probably will play with this more.
The other direction I went with is the use of the EZ clamps for its track. Most of you will not be familiar with them but they come in two sizes. I've used these since early 2000's and they work well. Not a bar clamp so it take slightly more time to screw then down. With the machined bar rather then a simple T-flange that was very limited in screw size it was easy to accommodate the 5/16"-18 (~8mm) threaded rod on both ends. For the Mafell track I had to go with a reduced size knob as the width of the EZ knobs could be left in a position where they would be cut by the saw blade. With my past experience I may just stay with these and not really use the bar clamp, familiarity you understand. Any T-track clamp like Kregs with a screw at the bottom would work like this.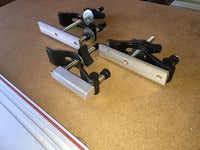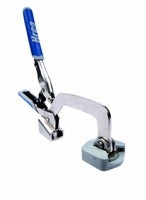 I also played with the mini-Jorgy if a person did not have a router table. The T-Groove in the Mafell rail fits 1/16" bar stock, so I grabbed some 1"x1"x1/16" aluminum angle at Home Depot, then cut it down to fit to the sides of the bar clamp and fit the groove. That worked as an alternative and showed as much integrity as the Mafell aluminum track does. It's probably architectural grade aluminum so not as strong as 6061or 2024 alloys.
And I still want to machine a bar to fit flush into the groove, but as mentioned it's limitation is the 3mm sized screws it can only accommodate.
The size of the machined bar still would accommodate the Bosch-Like sized clamps; it would be just more difficult to generate the slot for the bar with home tools. It was however one of the first things I made. It could be mass produced if everyone settles on a specific clamp (bar size), but having the T-Bar where any sized threaded hole can be made opens up a lot of choices.
Anyway, just an update looking for other viewpoints. I'll add the T-Bar dimensions and machining details later. The mill bit details and setup is very important as machining aluminum has a much smaller work window then wood.